Heka as an employer
Heka has been proven to be a good employer and, in addition to our excellent management, we also invest in the well-being, training and employee benefits of our employees. With us, you will get to do work that is relevant for the daily life of almost 100,000 city residents.
Responsibility is reflected in all areas of our operations. As an employer, we continuously assess and develop our working conditions, occupational safety, employee job satisfaction and well-being.
 We have a wide range of employee benefits:
Comprehensive occupational health care services
Lunch and commuting benefit
Sports, culture and massage benefit
Opportunities for multi-location work
Joint events and occupational well-being days
As a responsible employer, we want to ensure that our employees have the right information and tools to successfully perform their work.
Confidence in one's own competence increases well-being at work. At Heka, you can improve yourself with additional vocational training or by, for example, completing a vocational degree while working. We want to encourage and help our employees to develop in their work. You will have the opportunity to advance in your career according to your interests and skills.
A nice workplace and the best colleagues. They keep you going.

Comment from the 2022 staff survey
We promote the equality and non-discrimination of our employees in a goal-oriented and systematic manner through our equality and non-discrimination plan.
At Heka, we are allowed to enjoy our work, but work is not the defining element of our lives. Flexible hours, hybrid work and arrangements for part-time work make it possible to reconcile work and leisure time in different life situations.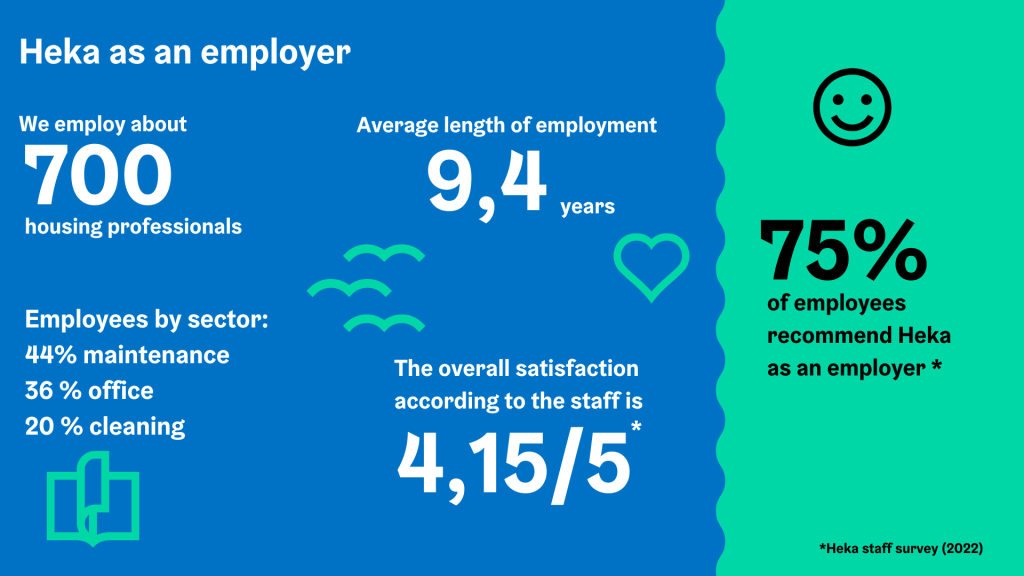 Remote work is at an excellent level at the moment. In my opinion, it provides flexibility for combining work with family life. This creates the feeling that the employee's personal life is also valuable, which in turn increases the feeling of appreciation towards the employer. The feeling of appreciation maintains work motivation and thus increases productivity. When you have a good employer, you are willing to make an extra effort for the employer. I am grateful to be part of this group.

Comment from the 2022 staff survey